The Luxury Crossover You've Been Looking For - Meet the Latest Mercedes-Benz GLC-Class Models in Grand Rapids
In the market for a five-passenger vehicle that delivers SUV style in a compact size? You could shop for any of the number of similar models flooding the streets of Grandville and Allendale these days. Or, you could stop by Betten Imports in Grand Rapids and let our team introduce you to the one crossover that stands heads and shoulders above the competition when it comes to outstanding style and renfined luxury - the Mercedes-Benz GLC-Class SUV.
Style, Power, and Luxury
More than just another two-row crossover, the Mercedes-Benz GLC is a high-end model that's crafted with the world-renowned carmaker's signature attention to detail and commitment to high-tech engineering. For 2021, this popular SUV gets a few nice updates for drivers in the greater Wyoming, MI area, including a shakeup in the roster of standard and optional features. Every model in the lineup now gets standard hands-free entry, an assisted parking system, and rear cross-traffic alert, while new color schemes and a 360-degree parking camera system are now optional.
Here in the Holland area, our customers who are interested in personalizing the 2021 Mercedes-Benz GLC for their commutes get a pick of great options to choose from, including four trim levels with four coordinating powertrains. Ranging from a turbo four-cylinder, to a plug-in hybrid, to a turbocharged V6, and finally a turbo V8, there's something for everyone in the 2021 GLC collection.
The benefit to owning one of these models is the high-class look on the inside and outside. You'll feel like you are sitting in the comfiest chair in your house all while catching the eye of everyone you pass.
You and your passengers will be sitting in the lap of luxury. Look at how the Mercedes-Benz GLC compares to other SUVs in its class. This SUV holds up well and has many features that will make you very happy to own one. 
The Performance of the Mercedes-Benz GLC-Class
The Mercedes-Benz GLC-Class has power underneath its sleek interior. The Mercedes-Benz GLC 300, its baseline model, offers Dynamic Select drive modes which allow you to fine-tune the driving parameters. These include:
Comfort
Sport
Sport+
Individual
Eco
The drive mode feature gives you the ability to go from better handling to more efficiency at the flick of a switch. To help utilize this feature, this SUV starts at 241 horsepower housed inside of a turbocharged engine that jumps out to 60 miles per hour in 6.3 seconds.
The Mercedes-Benz GLC has a powertrain that matches well with other SUVs on the market. The engine is complemented with a nine-speed automatic transmission that gives you more efficiency as you shift between gears.
If you are looking to make a smart decision on an SUV, you can't go wrong with the Mercedes-Benz GLC-Class. Baseline models come equipped with rear-wheel drive but also offer the option to upgrade to the Mercedes-Benz four-wheel drive system that will help to increase traction in wet and slippery road conditions.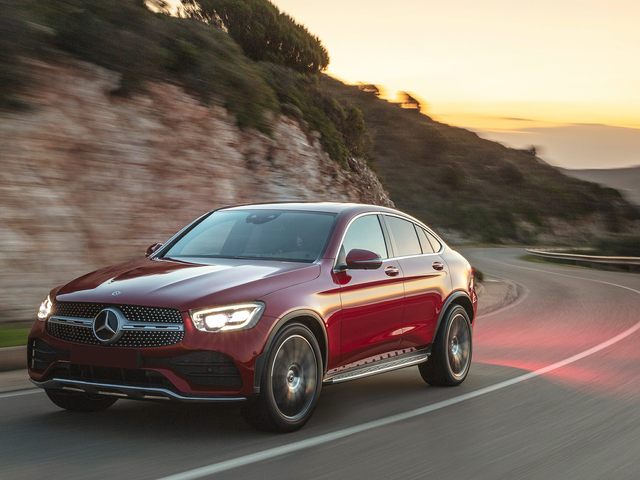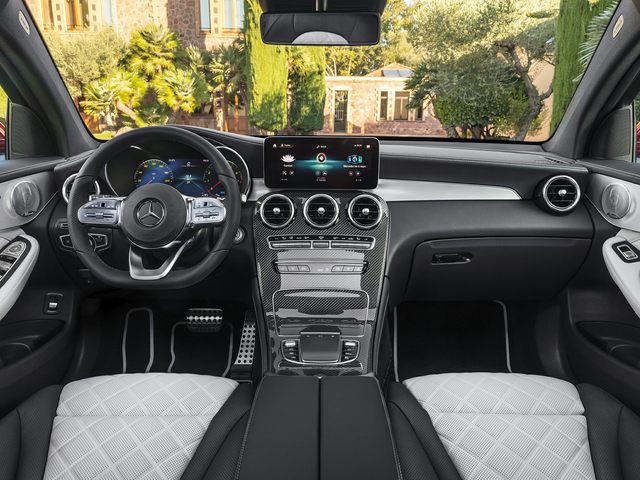 The Mercedes-Benz GLC Safety and Technology
With a long list of technology and safety features, you'll always find something new to love about the Mercedes-Benz GLC-class every day whether you're driving through rough weather in Grandville or making a long trip home to Allendale.
The Mercedes-Benz GLC 300 offers 14-way power driver's seats to adjust to the best support for you. It also comes standard with an illuminated entry system and a power liftgate that allows easy access for you at any time of the day. Even when your hands are full, and you need some guiding help, this SUV provides an effortless entry. Inside the cab space, you can use dual-zone climate control for both front and rear seat passengers.
Safety is important to a lot of drivers and the Mercedes-Benz GLC-Class does not fail to deliver. Coming standard is a rearview camera, driver drowsiness monitoring, and Pre-Safe, which prepares the SUV before a collision by rolling up windows for the passengers and tightening their seatbelts. These features help make the decision-making process easy when looking for a new SUV.
Where to Find Your Next Mercedes-Benz SUV
If you'd like to check out our stock of Mercedes-Benz GLC-Class SUVs, we have a slew of options at different trim levels that you can look through with one of our representatives to find the right fit for you. Our new inventory is a perfect place to start. Or, if you would like to save on your next Mercedes-Benz purchase, take a look at our stock of certified pre-owned vehicles. At Betten Imports, we want you to get the most out of your SUV buying experience!
Different Options for the Mercedes-Benz GLC
If you are looking for the standard package, the Mercedes-Benz GLC 300 is great for your needs. But, if you'd like to add more to what you are getting, there are options! Along with the Mercedes-Benz GLC 300, a coupe version is also available. The coupe sacrifices cargo space but comes standard with all-wheel drive and a power sunroof. You can purchase extra features for these baseline models, like blind spot monitoring or a heads-up display.
Mercedes-Benz GLC 350e is the hybrid model offered. It features all the amenities of the base model but includes:
A better fuel economy
315 horsepower
A haptic accelerator pedal which sends a vibrating pulse through the pedal that alerts the driver when switching from battery to gas
As the top of the line models, the Mercedes-Benz AMG GLC43 and the Mercedes-Benz AMG GLC63 certainly set the bar high. They each offer a coupe model and a powertrain that has been increased to 362 and 503 horsepower, respectively. The Mercedes-Benz GLC63 has a twin-turbocharged V8 engine that makes it powerful as well as having all the spacious qualities of the baseline models.
The Mercedes-Benz AMG GLC63 features all of the best that its previous models offer but also has:
a Pan Americana grill
lower and wider quad exhaust outlets
larger lower air intakes
With upgrades to the exterior, the Mercedes-Benz AMG GLC63 also upgrades the interior with unique seat upholstery and aluminum trim.
Why Buy the Mercedes-Benz GLC
We here at Betten Imports know that the Mercedes-Benz GLC-Class SUV is the real deal, no matter what package you choose. If you want to see a comparison to other Mercedes-Benz SUVs, we are more than happy to take you through our stock. We want your driving experience to be smooth and effortless, and nothing says that more than the Mercedes-Benz GLC-Class! Our representatives are ready to show our available Mercedes-Benz SUVs and find the one that best fits your lifestyle.
Mercedes-Benz GLC-Class: Expect More from Your Crossover
Premium compact crossovers are held to a higher standard than your typical SUV. While more mainstream models can get by on utility alone, luxury crossovers must be both highly capable and highly accommodating, with upscale cabins, executive style, and superior features sets. Fortunately, discerning drivers from Grand Rapids to Allendale have access to the Mercedes-Benz GLC-Class, a compact crossover that isn't content just meeting expectations. With a gorgeous and meticulously constructed cabin, authoritative driving performance, and a wealth of advanced technologies, the GLC-Class is the standard setter in the segment.
Prodigious Performance
Equipped with a turbocharged 2.0-liter four-cylinder engine, the GLC-Class offers plenty of highway passing power, to the tune of 241 horsepower and 273 pound-feet of torque. Four-wheel multilink suspension delivers exceptional balance and cornering, while soaking up rugged terrain with ease; and available 4Matic all-wheel drive provides extra traction in slippery conditions.
For more power-hungry drivers in Holland and Wyoming MI, there's the AMG GLC 43, which lays down a stout 362 horsepower and 384 pound-feet of torque thanks to its turbocharged 3.0-liter V-6 power plant. 4Matic all-wheel drive and a sport-tuned air suspension come standard.
First-Class Features
Stay connected, entertained, and on top of your schedule with advanced Mbrace Connect infotainment with 7-inch display and available Apple CarPlay and Android Auto smartphone integration.
Though not a substitute for attentive driving, standard safety features like forward collision warning, automatic emergency braking, and a driver attention monitor provide an extra degree of protection on your daily journeys.
Enjoy the added comfort and convenience of standard features like a power liftgate (with available hands-free operation), dual-zone automatic climate control, keyless ignition, 40/20/40-split folding second row, a power-adjustable driver seat with memory function, and a 115-volt household-style power outlet.
Experience Excellence
Come see the grace, power, and versatility for yourself. Visit our Mercedes-Benz showroom near Grandville to get behind the wheel for a test drive of the new GLC-Class, today. Our friendly staff will be happy to show you around.